2002

"Mike" Michael Peter Fong
- Total Around-The-World. Mike Fong rode the first Singapore R100GS/PD around the world. Wrote the book: "A tankful of time". Details see www.teschipedia.de
11.12.2008 1st request for his summary
06.01.2015 2nd request for his summary. Mike send several fotos.


2002
Volker Wunsch (German, geb. 13.01.1969)
- Plan Around-The-World. The lorry-driver Volker plans to circle the world in 2002 with BMW R 1100 GS 1,5 - 2 years.
14.11.1998 Visit of Volker Wunsch who plans to ride Around the World 2002. He intends to ride by his own via Russia to Wladiwostok - Alasca - Argentinia (Tierra del Fuego) - Australia and .... So far Volker has a lot of experience driving by lorry to Russia, Ukraine and Tunisia.
01.03.2002 2nd request for update by letter.


Januar 2002 -
Serena and Eiko (Germans)
- Plan Around-The-World. Serena (BMW Funduro) and Eiko (HPN-BMW) plan to ride RTW Januar 2001 without a time limit. We had that dream about travelling around the world and not coming back as well as not having a home place to turn back since a long time. Now we made our decision. We will give up our home and sell our furniture. Luckily, we have some money saved. Nevertheless, we want to work on our journey, earn money and acquire new skills. Our heros - if we can use that word - are Claudia and Klaus Schubert (see there). They just wanted to visit Klaus' sister in Japan on their motorbikes and then they have been on the road for 16 years. There is no definite plan about our route. But we think that we will start in South Africa and cross the continent until we would like to move on to Asia or wherever.
15.07.2001 1st contact.


01.04.2002 - 06.06.2004
Sibylle Salzmann (born 1975 Swiss) and Marco Meier (born 1973, Swiss) www.sima.li
+ Around The World. Sibylle and Marco have travelled already in Europe 80.000 kms with BMW R 1100 GS (Scandinavia, France, Italy, Spain, Greek, Turkey), Africa (Maroc) and Canada (BC). But their "travel bug" is not satisfied. So they started for a Around-The-World tour in april 2002 with two BMW F-650 GS Dakar to circle the world. They wanted to travel the open world open end but came back 06.06.2004.
Purpose of Travel: Meeting other cultures/people. To break out of the safe live here. Adventures - and to ride a motorcycle every day!
Planned Route in 2001: Switzerland, Italy, Greek, Turkey, Pakistan, India, Lhadak, Nepal, Thailand, Tiger States, Australia.........?
Planned Route in 2002: Because of the situation in the region of Kashmir we changed the route now. The new planned route: CH - Italy - Greek - Turkey - Georgia - Russia - Kazakhstan - Siberia (Wladiwostok) - Japan. Arriving in Japan, we look what we will do.
Planned Route in 2002 finally: CH - Italy - Greek - Turkey (Ferry) - Russia - Siberia (Wladiwostok arrival 29.07.02) - Japan. Arriving in Japan, we look what we will do. We have open-end.
Done Route: 2002-2004: April 2002 start in Zürich, Italy, Greece and Turkey, 05.05.2002 arrived in Sochi, Russia, travel trough Russia, Altaj mountains and Baikal area until Vladiwostok, 02.08.2002 arrived in Japan, travel trough Honshu and Hokkaido, 05.09.2002 shipping of the bikes to South America, Santiago de Chile, 17.11.02, bikes arrived in Valparaiso, Chile, next 8 months travel trough Chile and Argentinia, arrived 25.12.2002 in Ushuaia for the great traveller party, then we worked 7 months in south chile as tourguides, continue the travel to Bolivia and travelled there about 5 months trough Bolivia and Peru and 3 months in Brasil, 1 month in Uruguay, 09.05.2004 boarding with the bikes on a freighter Grimaldi-line in Argentina (Buenos Aires) to Germany (Hamburg), arriving in Hamburg on the 02.06.2004, arriving by motorbike and end of the travel in Zürich on the 06.06.2004
2001 1st contact
20.07.02 Arrived in Russia in Chabarowsk having passed a part of the the Armur river area: 800 km bad off-road, 500 km by train from Chernoschevsk to Skovoridin.
19.02.2003 Marco from Bariloche in Argentina: We will be on the road for a while. Perhaps we see at the 26th oder 27th or.... Motorcycle-WORLD-Traveller Meeting..
12.07.2004 Last update


04.06.2002 (departure) - ????
Valeria Milaniin (Italian, born Lucca 31.08.1969) and George Migliorelli (USA / Italian, born 1952) www.flyingzacchinis.com
- Plan Around-The-World. Both plan to travel Around-The-World. George with HONDA Africa Twin and Valeria is by sponsored HONDA Transalp.
Purpose of travel: Follow a dream which George have had for twenty years. Religious follower of Ted Simon.
Valeria has no particular reason. She is a journalist and loves riding a bike.
Planned route: Italy (Lucca - Milana) - Switzerland - Slovenia - Croatia - Serbia - Bulgaria - Greece - Turkey (04.07.02) - Syria - Turkey - Iran (A motorbike driven by a woman is anusual in Iran, so I stimulated curiosity in both sexes. It was funny!!!) - Pakistan (Pakistan didn't cause any problem; we met interesting people (Pastun tribes) in Baluchistan and police scorted us in the second part of the journey, through Punjab to India border) - India (India's roads are very dangerous: crazy traffic of people and animals without any roules, but we survived) - Nepal (Nepal was a very interesting country, I didn't expect to find a "war" down there! Fortunatly "maoist" are not interested in tourists and are fighting only against the police) - they flew with their bikes from Nepal to Thailand (Bangkok) - Laos (10.10.02 Vientiane) - Plan: Cambodia - Vietnam - Malaysia - Singapore - Indonesia - Australia.. etc
04.2000 George: Participant of the Tesch-Meeting for Mc-World-Travellers.
The best: Just beginning...
The worst: ...Getting the Carnet in Milan, Italy
Book or publication (about your tour): ...Motociclismo magazine will follow the RTW with a monthly box..
Useful informations and TIPS for others: ..Keep your head down and your tail up and do not let bureacracies stop you..
Earlier Experiences of big Motorcycle-Tours: China, Africa, North Cape, Europe, Coast to Coast, Malaysia, Singapore, Indonesia, Hawaii..
11.10.2002 : Valeria: Hi Bernd, I did'nt write you since long time; sorry but... you know, on the road weeks are shorter.
18.10.02 Part 2 from George:
Its been quite some time since I sent part 1. I believe it was from Turkey in July. Hey, its hard so I won't try to convince that we have been busy. Since part 1 we have been through Syria, back to Turkey, Iran, Pakistan, India, Nepal and now Thailand.
01.03.2003 "Sorry Bernd, we could not come to the meeting of world traveller, because we are "on the road" in ?? Valeria e Giorgio "IL GIRO"

Before starting we laid out a tentative schedule for the trip which tried to consider weather patterns (hot,cold,rainy season etc.) and balance it against time constraints. We have been a complete failure. We have been in the hottest areas at the hottest time of year. The Syrian desert in August. Baluchistan desert (Pakistan) early September. One 7 hour day in Baluchestan found us in 49 degree centigrade weather. We were just in time for the rainy season in India, Nepal and now Indochina. Several days ago we left for a four day tour from Chang Mai on the Mae Hong Son Loup which some claim to be the most beautiful motorcycle drive in the world. We were 200 kilometers out when we were told that the road had collapsed 100 kilometers ahead and there was no passing. We decided to return to CM, went 5 kilometers and the road was blocked by a partial collapse due to a river overflowing. We were trapped. We were fortunate in that the water subsided and the police let us pass although still in knee high water. The flooding in Thailand this season has been the worst in the past 50 years.

Each country provided some intersting encounters with humans, mother nature and the ground:

Syria: There was the middle aged Palestinian/Brit always dressed in Bedoin whites who is a Biology professor in Britian and a specialist in worms. He plays the stockmarket trades in antique Korans. Was last seen chatting up any "young thing" that passed his way.

Iran: The American Flag underwear for sale in a Teheran department store. The U.S. military uniforms for sale at a quasi army/navy store. The many Iranians who came up to us to express almost embarassment with their government. The many, many invitations we received from ordinary Iranians to come to their house for dinner.

Pakistan: "Sounding the Retreat" at the Pak/Indo border in 100 degrees humidity. On both sides of the border troops march in synchro, shout at each other in synchro with circa 8000 people on each side in stadium type seating shouting obscenties at each other. Spending an evening with the Pashtuns in Baluchestan, sleeping in a gas station and playing with their AK-47's. Being escorted for a day and a half by automatic weapon armed police so that we would have a "safe" time in Pakistan. G tasting dirt for the first time while off road (The Africa Twin only got a few scratches)

India: The Traffic, the Pastafarians. the monsoons. Every type of human, animal and inanimate being exists in Indain roads. The most dangerous I have ever seen. No regulations, passing on either side and at whatever speed. V at a standstill had her bike toppled by a water buffalo. With the bike down a second water buffalo put his hoof through the Givi extra long windscreen and made a 100 piece puzzle out of it. The Pastafarians (european youth in ethnic clothes with rasta matted hair) Maybe I am too old? Is it youth immitating their parents who took the magic bus in '68 from Amsterdam to Katmandu. Very much enjoyed the Israeli "hippies" in McCloud Ganj (exiled home of the Dalai Lama). The dichotomy was wonderful. After three years with the IDF (Israeli Defence Force) go to a safe (no muslims) place and play hippie.

Nepal: Civil war, Maoists, loss of documents/money, pastafarians again. Everyone has asked if we were frightened in Pakistan. The simple answer is no. Yes, there are too many weapons floating around and there are pockets one must avoid. However, the general sensation is that with a bit of caution there should be no trouble. On the other hand Nepal, Shangrila in the himmalayas, gives one the feeling that anything can happen at any time and at any place. There are circa 5000 "Maoists" (this is 2002 isn't it?) fighting the government and they are heavily armed. Several hundred soldiers, Maoists and civilians were killed while we were in country. Everyone is nervous, the army patrols Kastmandu with their fingers on the trigger. We decided to drive to Pokara, first we encountered an army patrol in full camoflage then 15k's later a bus was stopped in the center of the road. As we drove up several (6-7) young boys no more than 19 years of age appeared in Nike sneakers and North Face backpacks. They were all carrying automatic weapons. We the realized our encounter with The Maoists. They looked as though they still should be breast feeding. Fortunately their high command enforces a "No Foreignors" rule so we were not made part of the battle plan. We encountered so many army roadblocks. One in particular, after duslk in Jiri frightened us, solely because the soldier involved was also frightened and he was armed.

We had to ship the bikes from Katmandu to Bangkok since the Myanmar/Thai border was closed. One morning I left Katmandu by taxi to meet with a shipping agent. As I got out of the taxi I left my small pack in the taxi. I realized this gross act of negligence only after I was in the office and the taxi was long gone. The pack contained most of the remaining money for the trip along with every necessary document, passport etc. The trip was over. I started running, everyone in the office hopped on their respective scooters combing the city for the phantom taxi of which I had no identifying marks or numbers. It appeared to be a futile effort. We searched for an hour and a half and then returned to the office where the taxi driver was quietly waiting for my return. I wanted to kiss him. He told me he was married with three children. I gave him a not inconsequential tip but it could never be enough for his act of pure honesty. He did not even open the pack. You meet all types of people and the good ones make all the difference.

Met great Pastafarians in Katmandu. Three Italians from Rome, one in a Sari, the second in a Lawrence of Arabia costume and the third with everything pierced all jammed into a telephone booth calling home. All we heard was "MAMA MAMA, stiamo bene, stiamo bene!" (MOM, MOM we are fine, we are fine!) I guess I miss Italy..... All the best, George

Thailand ??
Malaysia ???
HongKong ??
17.11.2003 I asked for update: I did not hear from you since years..... Any huge problem not to answer anymore ??
13.07.2004 Iasked for update: I did not hear from both of you "since years"..
28.07.2004 Asked again for update. Still alive and travelling ??
28.07.2004 Asked again for update. Still alive and travelling ??
14.04.2010 Email from George. He and Valeria are living in Hong Kong since 6 years with adopted son Emilio,
15.04.2010 Asked again for update

01.07.2002 - 07.11.2002
Werner Bausenhart (born in Germany, 1937, living in Canada)
+ Around the World. Werner rode 46,846 km solo RTW in 4 months and 7 days with a BMW F 650.
Route: Nort America (Canada (Ottawa) - by air with bike to Europe (England (London) - France - H
Purpose of travel: infection by travel virus.
Route: Holland - Germany - Denmark - Sweden - Norway (Nordkapp) - Russia (Murmansk, Moscow, Sochi, Moscow, St. Petersburg) - Finland - Sweden - Denmark - Germany - Austria - Italy - Greece - Turkey) - Asia ( Iran - Pakistan - India - Bangladesh - by air with bike to Thailand - Bangkok) - Malaysia - Singapore - Malaysia (Kuala Lumpur) - by air with bike to Australia ( Perth, Darwin, Cairns, Bamaga (top of Cape York), Cairns, Townsville, Brisbane, Sydney) - by air with bike to North America (USA (Los Angeles, Phoenix, El Paso, Atlanta, Washington, Watertown) - Canada (Ottawa, home)).
10.03.2003: Book in preparation.
Werner BAUSENHART. Book: "From Nordkap Cape York on a Motorcycle". € 21,90. English. TB + TG. www.legaspublishing.com
182 pp. Softcover. 1st edition. 15 B x 23 H. 2003. Illustrations: 32 color, 11 b.and w.; maps.
Anmerkung von B.T.: Diese letzte Reise, eine Weltumrundung, ist "NUR" eine Addition zu den enormen Amerika, Asien und Afrika-Motorrad-Reisen, die Werner in den letzten Jahren vorher gemacht hat. Sehe dazu seine Bücher in meiner website. Jede Reise davon ist eine Leistung und ein Rekord für sich. Ich müßte einmal nachrechnen: Wahrscheinlich hat kein älterer Motorrad-Reisender so viele Reise-Kilometer gefahren. In keinem Fall ein Canadier oder Deutscher. Und in keinem Fall in so kurzer Zeit.
Earlier experiences:
01.07.1997 - 25.02.1998
Bausenhart, Werner Ph.D. (German living in Canada, born 1937)
"8 Around the Americas on a Motorcycle." North - and South-America. Alaska-Ushuaia. 47,543 miles (=76.069 kms). Book: € 21,90
The German Werner (60, living in Canada) rode around North and South America after he retired. He wrote a book with a day-to-day account of a trip by BMW R 100 GSPD from Ontario, Canada, to Prudhoe Bay (Alaska) to Ushuaia (Tierra del Fuego, Argentina), and back to Canada. It gives an insight into matters specific to motorcycle adventure travel: the documents required, the maintenance of the bike, road and riding conditions as they affect the motorcyclist, border crossings, transporting the bike by air freight, and accommodation and security for bike and rider. An appendix lists exact distances, and the names of secure campgrounds and hotels. The travelogue includes conversations with many of the fellow travellers Bausenhart met along the route. The book also touches on more personal questions. How does the family-oriented traveller obtain a leave of absence from a significant other who hates motorcycles? How does one overcome one's own fear of the unknown? The writer demonstrates that anyone with a strong desire to do so can indulge in motorcycle adventure travel. All that is required is a reliable
motorcycle, a bit of money, and a lot of time. Appendix: Route with kms, camping places and hotels.
Tour North America: 01.07.1997 - 21.08.97 28,864 Miles. Canada - U.S.A (Alaska) - Canada - U.S.A (Oregon - California) - Mexico - U.S.A (Texas - Florida - New York) - Canada.
Tour: South America: 20.10.1997-02.02.1998. 37,038 miles. Canada - U.S.A - Mexico - Guatemala - El Salvador -
Honduras - Nicaragua- Costa Rica - Panama - Colombia - Venezuela - Brazil - Paraguay - Argentina - Chile - Argentina - Chile - Bolivia - Peru - Bolivia - Peru - Ecuador - Colombia.
Tour: Central America and Mexico: 03.02.98 - 25.02.98. 47,543-37,090 =10.453 miles Panama - Costa Rica -
Nicaragua - Honduras - Guatemala - Belize - Mexico - U.S.A - Canada.
English. 240 pp. 23 b +w fotos, 1 map. 47,543miles (= 76.069 km)".
The best: End of the road in Alaska. End of the road on Tierra del Fuego, Argentina. Riding in the Andes.
The worst: Rain, rain, rain, thanks to El Niño.
Book in 2000: This private published book is available from Werner or Bernd Tesch: "8 Around the Americas on a Motorcycle."
1 July, 1997 - 6 April,1998:
1991 BMW R100 GSPD Around North and South America in a figure eight. 76,407 km. Ottawa, Canada - Winnipeg - Dawson Creek - Fairbanks - Deadhorse (Prudhoe Bay, Alaska) - Vancouver - USA -San Francisco - Mexico City - Panama to Colombia by air with bike - Venezuela - Brazil - Ushuaia (Argentina; end of the road) - Punta Arenas
(Chile) - Bolivia - Peru - Colombia by air with bike to Panama - Belize - Mexico - USA - Key West (Florida) - Ottawa, Canada.
15.06. - 25.10.1999
Bausenhart, Werner Ph. D. (Canada, German born 1937)
England - Russia - China - England. The in German born and in Canada living Werner (62) rode solo 31.686 km with BMW R 100 GS PD.
Route: From Canada (Ottawa) to England (London) by air with bike - France (Paris) - Germany (Berlin) - Poland (Warzaw) - White Russia (Minsk) - Russia (Moscow - Novosibirsk - Irkutsk - Chita - from Chernishevsk to Skovorodino by train (700 km) - Khabarovsk - Vladivostok - Pogranichny/Suifenhe Russ) - China border - China (the trip in China was by Chinese escort: Harbin - Beijing - Lanzhow - Kashgar - Khunjerab Pass - Pakistan (Rawalpindi - Islamabad - Iran - Turkey - Greece - Italy- Austria - Germany - France - England (London). By air to Canada with bike.
The best: Meeting the Russians. Chinese food. Riding in Baluchistan.
The worst: Broken driveshaft in China. 19-day wait in Islamabad for Iranian visa.
Book: "Into the Den of the Bear and the Lair of the Dragon on a Motorcycle" Appears. 2001.
28.09.2000 B.T.: A huge trip nobody had done before in this way solo or in a group.
16.10.2000 - 22.05.2001
+ Bausenhart, Werner Ph.D. (Canadian, German born 1937)
Around Africa. Werner (63) circled solo nearly Africa in total with BMW F 650. 35.645 km.
Route: From Canada (Ottawa) to England (London) by air - with bike to France - Spain - Morocco - Mauritania - Mali - Burkina Faso - Niger - Nigeria - Cameroon - Gabon - Congo (Brazzaville) - Angola - Namibia - South Africa (Capetown 30.12.2000) - Zimbabwe - Zambia - Malawi - Tanzania - Zanzibar - Kenya - Ethiopia - Sudan - Egypt - Jordan - Israel - Greece (ship) - Italy -
France - England (London) to Canada by air with bike.
France - Spain - Morocco - Mauritania - Nigeria - Gabon - Congo - Angola (12.2000 already) - Namibia - South Africa (Capetown 30.12.2000) - Kenya - Egypt - Lybia - Morocco - Spain - England (London) to Canada by air with bike.
Book: planned.
26.09.2000 B.T. So far nobody has circeld Africa in TOTAL by bike. Werner has circeld North - and South-America already and published a book. See Bausenhart NAmerica.
Book: Africa Against the Clock on a Motorcycle, 2002


07.2002 + ca. 5 years
Martin Hable (Austria) www. ??
- Plan Around-The-World. The monteur Martin plans to circle the world without timelimit.
Planned Route: Austria (Lochen) - Germany - France - Spain - Portugal -Spain - Morocco - Algeria - Tunisia - Libya - Egypt - Jordania - along coast Saudi Arabia - Jemen - Oman bis V.A.E. - by ship to Iran - Pakistan - India - Nepal - Bangladesch - Burma - Thailand - Malaysia - Indonesia - Australia - Back via Neuguinea - Indonesia - Philippines - Taiwan - China - Japan - Hawaii - Mexico - Guatemala - Honduras - Nicaragua - Costa Rica - Panama - Kolumbia - Ecuador - Peru - Bolivia - Chile - Argentinia - Uruguay od. Paraguay - Brasilia - Suriname - Guyana - Venezuela. To islands Dominik. Rep. - Tahiti - Jamaika - Bahamas to USA - Canada - Island - Scottland - GB - Netherlands - Germany - Austria.
01.2001 1st contact.
18.01.2001 Martin visited me for recommendation. Austrian ministry "Auswärtiges Amt": http://www.bmaa.gv.at
14.03.2003 : Martin: Sorry Bernd, aber mir ist es aus beruflichen Gründen nicht möglich zu kommen. Du glaubst ja nicht wie hart es ist sich 75.000€ zusammenzusparen um meine Reise für 5 Jahre zu finanzieren. Daher muß ich auch auf so einiges was mir lieb ist verzichten.
Sobald es jedoch los geht, meld ich mich bei dir nochmals persönlich.
17.03.2003: Request for update


05.08.2002 - 06. 11.2002
Nick Sanders (British) www.nicksanders.com and other 21 travellers Around-The-World below
+ Around-The-World fifth time. This time Nick guided a group of 21 who all made it Around-The-World : 31,000 in 92 days


< Foto: Jason Mardell: India at a stoplight. In India all rode Enfields.
B.T.: The only person which Bernd Tesch knows ist the woman with the black spectacle (Plate I NO 7): Elspeth Beard who rode earlier solo around-The-World.


To me the very wellknown Nick passed bye in Zweifall / Germany with his YAMAHA R1 the last day before he finished his 4th Around-The-World-Tour in GB. What for other travellers is the highlight of their life Nick completed this 4th RTW tour like a "normal journey". This RTWorld he had undertaken just to prepare the fifth RTWorld tour with 24 others motorcycle riders.

For Bernd Tesch who is watching all Around-The-World- Tours by motorcycle it is always interesting to compare the "plan of the tour" and "the real tour". Below you find at first the plan. and afzer what came out.
When Nick told me here that the travellers have so many miles (600-800) to ride per day it came out that the journey is a mixture about travelling (where you want to see something and need time) and sport (where you like to motorcyle). I doubted that ALL of the starters would make it under those conditions. What could happen on a trip with 21 persons x 31.0000 miles => 651.0000 miles = 1.041.600 km ?? Nick guided them RTW: My congratulation !
The Plan: 06.01.2002 - 31.03.2002
WHAT'S THE OBJECTIVE? Riders, positioned in teams of three, will compete in a total of 9 staged legs and within 75 to 80 days, encircle the globe. The route, ratified by UK motoring organisations and The Guinness Book of Records as being a true overland circumnavigation of the world will involve five continents, seven deserts, four mountain chains and 27 countries, the total journey will cover more than 18 000 miles. Selected teams of three riders will line up at each daily stage start location. Flagged away by ride officials at short timed intervals, each team will ride via pre-determined checkpoints and then proceed to a daily end destination. Photographs taken at each check point site will be presented as proof to the judges and daily points accumulated will give an eventual around the world winning team.
Route: Stage 1: Riders will leave London and fly to New York for the start of the 18,000 mile long Motorcycle World Challenge. 8 teams of 3 riders will cross Canada in stage 1 along the Yellowhead Highway and include one 1000 mile time trial before easing off in the Banff and Jasper National Park in Alberta and British Columbia. After this, they journey into Yukon Territory where the Top of the World Highway will lead us through Fairbanks into Alaska. Continuing west along the Glenn Highway the Challenge will at Anchorage make its first pit stop and tyre change.
Stage 2: Re-routing east on the Glenn to Tok the teams turn south to ride nearly the full length of the Alaskan Highway. Descending through British Columbia to Vancouver and Seattle, there will be an overnight service stop in Olympia prior to stage 3.
Stage 3: The Challenge travels south along Highway 101 set against the Pacific Ocean before turning inland into Oregon, NE California and across the deserts of Nevada and Death Valley. After a deserved night off in Las Vegas the journey continues on through the Grand Canyon National Park, Marble Canyon, the Canyons of the ancients and onto Durango along one of the finest road journeys in America, to end up in UFO country and Roswell before the third overnight service stop in El Paso.
Stage 4: The route through Mexico will head towards Copper Canyon and cross the Sierra Madre Occidental before boarding the car ferry for the southern tip of Baja California. For the next three days the Challenge proceeds north through magnificent desert landscapes before reaching San Diego and a rest stop in Los Angeles. Bikes will be air freighted to Sydney where the fiths stage begins.
Stage 5: This leg around Australia will include two 1000 mile timed trials across central Australia and the west coast towards Perth. Teams have a choice of gaining points by riding to Perth via Broome or taking a more leisurely route across the Nullarbor. Irrespective of other accolades, this continent is an awesome motoring experience.
Stage 6: Stage 6 takes the riders to South East Asia. After air freighting the bikes from Perth to Singapore the teams will head north through Malaysia and Thailand to Bangkok. Riders can sightsee in Bangkok and Chang Mai or again, teams can decide to ride east to Cambodia via the 9th century Buddhist temple Angkor Wat. The route will only provisionally head to Vietnam before returning across eastern Thailand.
Stage 7: After reaching Bangkok, riders will head 1500 miles south to Singapore where the bikes will be freighted to Madras as riders rest in Malaysia.
Stage 8: The next leg of the Challenge will take riders to Delhi. Teams can choose to fly on to Istanbul or head west to the Rajasthan Desert before entering Pakistan at Lahore to cross the Indus Valley and ride overland through Iran and Turkey, to finish in Istanbul over 6000 miles later.
Stage 9: Istanbul to London across Europe. The final 1800 mile run in. The winning team will be presented with the Challenge Bowl as all competitors each receive a bronze sculptured winners medal having motorcycled around the world
CONTACT DETAILS: Address. NIck Sanders. P.O. Box 27. MACHYNLLETH. POWYS, WALES, UK SY20 8WT. Email: enquiries@nicksanders.com

The REAL Tour: 05.08.2002 - 06. 11.2002
24 wanted to circle the world but 21 started AND made it !
Nick is a high experienced Around-the-World motorcycle traveller. This time he guided a group of 21 motorcycle travellers Around-The-World. They were accompanied by a service-car which was driven by British Elspeth Beard who rode already solo Around-The-World by bike (search on this site).
Jason Mardell kindly wrote the first and most complete summary out the tour. Information by the others will be added with their names.

All the participants were:
Richard Andrew (British, BMW R1150GS)
Elspeth Beard (British, on this RTW-tour she drove the service-car and in India an Enfield Bullet)
John Baggaley (British R1100GS)
Gary Clacket (British, Honda Shadow)
Ian Clarke (British, VFR800)
Leigh Dowell (British, Moto Guzz V11 sport)
Jane Holmyard (British, woman BMW R1150RS)
23.03.2010 Jane has her own business with her Partner Graham Saunders


Rob Hughes (British, born 09.03.55, Yamaha Thundercat)
Rob drove solo on a Yamaha YZF600R as part of the Nick Sanders motorcycle world challenge.
Rob's purpose of travel: Fun, and to see all that I could.
Rob´s The best: Too many to mention or too many to remember, but to sum it up. Eye poppin, Jaw droppin sights n sounds of the Americas and Austraila to the emotional culture shock of S.E. Asia and the sad ride home from Europe.
Rob´s worst: Wish I had the cash for more.
Earlier experiences: Brief forays into Europe (bro lives in Belgium) lots of UK riding. Was a motorcycle instructor for 5 years. Do 20,000-30,000 miles a year.
18.02.2003 1st contact and request for update.
11th-13th.04.2003: Rob takes part in the 25th Motorcycle Meeting for World-Travellers.

Calire Janssenswillen (British, woman BMW K100RT)
Frank Lloyd (Welsh, BMW R1150GS)

Jason Mardell (British, born 09.03.1964, software engineer) www.compers.demon.co.uk/mwc.htm
Jason drove solo 31,000 in 92 days on a BMW R1100S as part of the Nick Sanders motorcycle world challenge.
Jason´s pourpose of travel: Fun, fun fun and more fun
Jason´s The best: SOOOOO many. Traveling the length of the alaskan highway. Top of the world highway. Through the mountains of Alaska. Seeing bears in British columbia. Giant redwood forests. Driving on the Bonneville salt flats. The huge plains of Nevada, the awesome 'Ruta Espinoza el Diablo' in Mexico, the 50 degree heat of the Majabe desert, the speed limitless roads of australia together with the amazing wildlife, and the great coastal highway. The rains of the tropics. Seeing a headless body in the Meking river, the flooded villages, the storms and winds and mountains. The mountain motorways of Malaysia and madness of the drivers. The absolute chaos of traffic in India, the surprizing fantastic mountain roads in Greece. The beauty of Italy and the autostrada in the clouds. The pyranese racetracks and the Sierra Nevada views. The absolutley unbeatable Atlas Mountains and the Sahara desert. The endless 6,7 and 800 mile 16, 17 or 18 hour days. The fun, the laughter and the million other little things.
Jason´s The Worst: Not much really. Getting food poisioning in Mexico, the incredible debilitating 50 degree heat of the Majbe desert, driving through the concrete nightmare of Los Angeles, hitting a pack of dogs and then hitting the road in India. The only really bad experience of the whole trip was finishing it!!
Jason´s Earlier experiences: Not many. I've only been riding 2 1/2 years but regulary do 15,000 miles a year commuting. I've competed in the 24hr Welsh rally in 2002 and will again this year. I've really started my motorcycle touring with the ultimate trip.
18.02.2003 1st contact and request for update.
11th-13th.04.2003: Jason takes part in the 25th Motorcycle Meeting for World-Travellers .

Matt Mason (British Triumph Speed Triple)

Kennet T.M. McLennan (Scottish, born ?? BMW R1150GS Adventure, plumber + enigineer)
Kenny drove solo 31,000 in 92 days on a BMW R1150GS Adventure as part of the Nick Sanders motorcycle world challenge.
25.02.2003 1st contact and request for update
111th-13th.04.2003: Kenny takes part in the 25th Motorcycle Meeting for World-Travellers with his wife Alice and daughter Harly-Jane (10) coming in a sidecar BMW R 100 R.

John Phillipson (British, Honda NTV 650)


05.08.2002 - 06.11.2002 www.getjealous.com/ninaplumbe
Nina Plumbe (British, woman, born 13.08.1951 BMW R850R)
The Best : Trying to get to Angkor Wat in Cambodia when we were defeated by flood water. The Cambodians were wonderful and it is 24 hrs I will not forget. The very best bit was our two bikes being towed by a 'toot toot (tut tut ?)' in line in Aranyapathet in Thailand.
The worst : The worst day during my round the world challenge with Nick Sanders was in India on the main road to Puna from the south. The traffic was very heavy and the concentration was very high as we tried to go as fast as possible to get to our destination. Hazards included every kind of vehicular traffic as well as many kind of animals. It was mentally exhausting and we were very hot and very dirty.
Earlier Experiences : I have been riding since I was 16...that was a long time ago. I began on a scootor, a Lambretta model F; I still have this scootor ! That was in 1966. I have now been riding motorbikes for 36 years . I ride all year round ! Before doing the world trip I had only taken trips in Europe . During the world trip I rode 32,000 miles (51,000k) in 95 days on my R850R BMW. I travelled through USA, Canada, Mexico, Australia, Singapore, Malaysia, Thailand, Cambodia, India, Turkey, Greece, Italy, Spain, France, Morocco, England. During this trip I rode 810 miles (1300k) on one day. We averaged 340 miles (540km) over the whole of the trip.
07.03.2003 1st contact
11th-13th.04.2003: Nina takes part in the 25th Motorcycle Meeting for World-Travellers in Malmedy / Belgium.
13th.02.2007 Nina infomrs B.T.: Dear Bernd, Just to let you know that I have just ridden down Africa on my own bike R1200GS. I am 56 years old now. Having gone round the world with Nick Sanders in 2002, I have now been round the Mediteranean sea, the Black sea , the Baltic sea and now down Africa. Good for an old lady, heh ?
16th.02.2007 B.T. asked Nina for update
16th.02.2007 An update of motorcycle trips.
Sept 04 A month round Morocco on R850R BMW.
May 05 A trip round the Baltic, including Russia , North Cape . It took about 5 Weeks. On R850R BMW
Sept 05 A trip round the Meditterranean Sea . It took about 5 weeks. On R850R BMW
May 06 A trip round the Black Sea . It took about 5 weeks ! On R1200GS BMW
Oct 06 Set off to do Norfolk , UK to Cape Town ,SA. took easterly route and arrived after 17 weeks and 12700 miles. On R1200GS BMW
PURPOSE...always to enjoy the people and countries and motorcycling.
WORST: Dropping bike in water, seeing child hit in accident.Egyptian border formalities.
21th.02.2007 Asked NIna vor an extra overview of her Trans-African-Tour.
2018: I went with Clive to Brazil. 3 months going round Brazil on Honda 300cc's. We bought the bikes after arriving and sold them at the end. It was tricky buying ( you have to have a very special Brazilian card… the Receita Federal….which is valid for life) but we managed. Off we went in a circle round Brazil. We did the infamous B319 through the jungle to Manaus. It was November, it did rain a bit but the little bikes were great and we did the 400kms of dirt road with just one night at the ferry crossing. Then bikes on boat down the Amazon for 4 days to Belem. We had no problems but did hear gunfire one breakfast.! It is all in the blog.. www.ninaplumbe.co.uk.
This last autumn we went round the world to Australia and back. Scootored round Guadeloupe, BMW motorbikes for a week near LA, scootored round the Cook islands, rode 2 bikes ( Triumph Bonneville and Honda silver shadow) round North island, New Zealand and then finally 3 weeks in Australia with a Honda 250 near Perth at my daughter.!
The plan now is Myanmar and Vietnam….We are both well and between us have 132 years! I now have a Honda CB1100 retro bike. Looks like my old BMW Classic 850. We are still running the orchard….one day we need to retire!! So come and see us in the summer..always here.

Adrian Rountree (British Suzuki Hayabusa)
Graham Saunders (British, Honda Blackbird) http://www.grahamsaunders.com
Clive Sheward (British BMW R1150GS Adventure)
Bill Smith (Scottish BMW R1150RS)

Marco Valente (Scotland, born 02.05.1976, BMW R1150GS Adventure)
I started riding motorcycles in the winter of 1997, but just recently I have started to make trips outside the UK. My latest and biggest trip was with the "Nick Sanders motorcycle world challenge" and enjoyed every second of it. I rode 31,000 miles in 92 days. And to my surprise I had no breakdowns with my bike which is a BMW 1150 GS ADVENTURE apart from having to change an indicator light bulb which had worked lose due to the off road riding to get to an ice glacier. Although the trip was long and hard some days it was made easier and more fun with the other riders. On some parts of the trip (Canada/Alaska) we were riding in freezing conditions but in other parts of the world we were over come with the heat (Majabe desert) where I was close to passing out due to heat exhaustion. Most days we rode between 500 miles and 700 miles but the furthest I rode in one day was from Port Headland to Perth (Australia) which was 1,116 miles which took us 18 1/2 hours. No matter where we were the locals made us welcome. But watch out for there driving especially in India, Malaysia and Thailand there crazy. Not only are you looking out for the locals but livestock as well which was needing a lot of onsecration. There is no favourite place that I liked because they all had there very different qualities. My worst moment on the trip was getting sea sick on the ferry crossing from Spain to Morocco (thanks again Richard). My best moment of the trip was crossing and getting stuck a river in Morocco and getting the perfect picture (thanks to Elspeth).
28.03.2003 1st contact and request for update.
11th-13th.04.2003: Marco takes part in the 25th Motorcycle Meeting for World-Travellers.

Tim White (British Honda Pan European)
Graeme Willet (British BMW R1150GS)

Route: New York to Ankorage Alaska, down west coast then Texas and Mexico before coming back up to LA : 14.000 miles in 1st month. USA (LA) to Australia (Sydney) by air -> Sydney -> Melbourne -> Adelaide -> Katherine -> then over the top and round the west coast Port Hedland then to Perth doing 1100 miles in a day -> Australia (Perth) to Singapore by air -> from Singapore through Malaysia and Thailand to Meykong river -> then back down to Thailand (Bangkok) and back through Malaysia to Singapore. Singapore to India (Madras) to pick up Enfields -> Madras to Mangalore, Bangalore, Puna up through Agra to Delhi app. 2000 miles -> Delhi to Istanbul by air -> Istanbul through Greece then ferry to Italy -> Italy -> France -> Spain -> Morrocco -> then back through Spain -> Andora -> France -> Italy -> France -> Spain -> to UK

Find out more about the man who's been round the world more times than your average satellite and probably faster. Once on a bicycle in 79 days and round again on a motorcycle in 31 days; breaking the World Record on both occassions.

Nick Sanders had done so many extra ordinary travels / races / tours of which most of us are just dreaming off. To pay those adventures sometimes needs just to be satisfied with water and a piece of bread. But always when I met Nick he was happy: THIS COUNTS ! You can easily take a bit part in his adventures by buying his videos via www.nicksanders.com

The view of his Videos for sale: Road Head. The Emerald Way 4 go to Europe. Edge of the Sahara. American Dream. Journey to the top of the World. Fastest Man around the World. Black Sea Odyssey. The Longest Narrow Boat Journey. Kaleidoscope Coast. The Nick Sanders Motorcycle World Challenge.If you would like to order a video please send a cheque with your details to the address below.
Road Head is £9.99, all other videos are £14.99. Plus £1.50 P&P in England.

The details of his Videos for sale:
Motorcycle-Travel-Video: Road Head... English Pounds £9.99 + postage
the art of riding round the world in 16 minutes and 30 seconds. Eye candy for the true motorcylcle artisan. Road Head takes a trip beyond the asphalt into the realm of biker dreams. A montage of the biker mind on circling a planet called Earth. To find out how Roadhead was made and preview video clips.

Motorcycle-Travel-Video: The Emerald Way English Pounds £14.99 + postage
Eleven days in Ireland and it rained almost without ceasing. This gave vent to a moody sky which was somehow a necessary condition for historical atmosphere. Biking back to distant roots, I was discovering an Irishness in me which had long lay hidden. Maybe there's a bit of the blarney in all of us. It was becoming clear that the fairies had led me to people and places which were more a measure of my own character than anything I could say about it myself.

Motorcycle-Travel-Video: 4 go to Europe English Pounds £14.99 + postage
This exquisite little film records Nick Sanders' round trip journey from Wales to southern Spain. Travelling with wife Hennie and their two boys, Willow and Juno, they opted to use motorbike and side car. Packed with a tent, tools and an assortment of teddies they set off, like characters from a story book, to make up their own adventure. The film is a simple tableau of things they saw and places they passed. A small but deceptively hard jewel of an adventure. A beautiful biker movie of the first order.

Motorcycle-Travel-Video: Journey to the Edge of the Sahara English Pounds £14.99 + postage
14 riders journeyed along some of the most beautiful roads in France and Spain before reaching the magnificent country of Morocco. Venturing into Africa, the expedition stepped far back into history. It continued on to the Tiz n'Ticha Mountain Pass, routed between Marrakesh and Ait Ben Haddou. This is one of the most stunning sections of road in Morocco, and perhaps one of the most dramatic in the world. This is a journey which contains the deeper kind of resonance that only real adventure brings.

Motorcycle-Travel-Video: American Dream Road-warriors...... English Pounds £14.99 + postage
>ou are never happy unless you're on the road. I know that. Cars and trucks and people on the pavement come into view within a landscape that flashes past. But locked in your helmet, it's all very fleeting. Hypnotised along that thin grey line which never seems to end........ You are seduced. "Come with me ," the road seems to say, "let me show you places you've never seen."

Motorcycle-Travel-Video: Journey to the Top of the World English Pounds £14.99 + postage
This film is a story about achievement, speed, endurance and beautiful landscapes - and the simple love of motorcycling. It's about 20 motorcyclists who wanted a break from their normal way of life. Over 27 days, 15 men and 5 women, together with team leader Nick Sanders, rode for nearly 12,000 miles through blistering heat, torrential rain and an unparalleled variety of bad road conditions. They went from New York to Death Valley, on to Alaska and back. And this is their story.

Motorcycle-Race and Travel-Video: Fastest Man around the World English Pounds £14.99 + postage
Riding a 900cc Triumph Daytona, Nick rode 19,930 miles in a Guinness recorded time of 31 days 20 hours, also beating the previous car-driving record by 2 days! This digital broadcast quality video follows Nick on his mission, through 21 countries, 4 deserts and 4 continents in one serious month! This is a race against the clock. And it's never been done on a motorbike before...........

Boat journey: Black Sea Odyssey English Pounds £14.99 + postage
Nick and friends took a narrowboat from London to the Black Sea. This film is the tale of their return journey, ending in a crossing of the English Channel at night! The film covers the concluding part of what had already become an epic adventure - will it ever be repeated? The Longest Narrow

Boat Journey in the World English Pounds £14.99 + postage
In June 1994, Nick Sanders and his two-man crew started out on a wee adventure. They left the Black Country, home of the Industrial Revolution, canals and Banks's Beer, and set off for the Black Sea, 4000 miles away, on two narrowboats. And they got there!
This film is the story of their adventure, involving open seas, the swirling currents of the Rhine and Danube, of sinkings and salvagings, of getting their barges through the war-zone of Serbia and finally reaching the port of Agigea at the end of the Black Sea Canal.

Motorcycle-Travel-Video: Kaleidoscope Coast English Pounds £14.99 + postage
The circumnavigation of the entire British coastline - the film of a journey through a kaleidoscope of human and landscape diversity. From the elephant on skis at John O'Groats to the isolation of the Highlands and the magnificent Pass of the Cattle, to the mad roller-coaster ride through Blackpool, this is a wonderful sequence of images and music, central to which is of course the bike riding to whisk you along!


06.04.2002 - 03.2004
Vincent Danna (France, born 23.03.1972) http://vincent.danna.free.fr
- Plan Around-The-World. The French man Vincent plans to ride solo Around-The-World with a BMW 100GS Paris Dakar.
Route: Europe - Russia - Mongolia - Kazakhstan - Kirghistan - Ouzbekistan - Turkmenistan - Iran (12.2002) - Plans : Pakistan, maybe afghanistan and tajikistan (according to the dangers and weathers) then india, se asia, australia, nz, south and central america, africa, back to france.
Purpose of travel: None, fun
The best so far: Russia, Mongolia, in Central Asia especially Kirghistan.
The Worst so far: I got stuck because of the bike, especially in Teheran. Iran.
Earlier experiences: None with bike, backpacking yes in SE Asia
08.07.2002 1st contact
18.02.2003 Vincent is in Pakistan. Will not be able to come to the 25th. Motorcycle-Meeting for World-Travellers 11th.-13th.04.2003. Vincent has the possibility to travel to Afghanistan. Bernd Tesch connected him with Ted Simon.
02.03.2004 Vincent in India on his way to Nepal. Now ridig with a Swiss tephane, a swiss guy, on a very nice bmw hpn
02.03.2004 Asked for update


02.05.2002 - 20.09.2003 and 29.02.2004 - 31.07.2004
YOU can take part in this personal organised tour:
Around-The-World in total or in special parts for YOUHH:
Kurt Weidner (German, based in Australia) fuer BIKE TOURS AUSTRALIA. http://
- Plan Around-The-World. 71.600 Km auf BMW R 1150 GS und Yamaha XT 600.
Route: Europe (Germany), North-America (Canada, Alaska, USA, Mexico, Guatemala, Honduras, Nicaragua, Costa Rica, Panama) - South America (Venezuela, Brasil, Argentina, Chile), Australia (New Zealand, Australia) - Asia (Hong Kong, Peking, Mongolia, Russia) - Germany.
Purpose of travel: I have founded "BIKE TOURS AUSTRALIA" almost 20 years ago. Back then, it was one of the very first motorcycle touring companies. For our 20th, anniversary, we organise a motorcycle tour "Round The Globe", the: "BIKE TOURS ALLROUND". Since many of us motorcycle enthusiasts would love to do a trip around the world on a bike, most can't afford the 16 months to do it. So the BIKE TOURS ALLROUND gives you the chance to be part of this great adventure, because you can only book the sections in your favourite country, you would like to travel in. The world tour consists of 14 sections, which can be booked individually. So you might not be a "Round the world traveller" but you can be definately part of a great WORLD TOUR. Information: e-mails: bike@biketours.com.au or travelaction@t-online.de End of October 01, the tour will be advertised on our website: http://www.biketours.com.au
General: The whole trip will be "life" on the net, and there will be a great video production about the project.
B.T.: Bernd Tesch knows Kurt Weidner and his firm BIKE TOURS AUSTRALIA in Australia personally. Kurt gave a wonderful party and offered us two YAMAHA XT 600 E in good condition for our tour three months tour in Australia 1999 / 2000. You can rent your bike there as well or take part in his well organised tours in Australia or the USA with him or Hardy.
This is the FIRST organised tour Around-The-World in which you can take part in the sections you like or in total or 3- or 4-weeks sections.

Here you find all informations and can book yourself:
http://www.biketours.com.au/worldtour/htm
02. June - 22. June 2002 Tour sections: BTA 1: Canada : Montreal - Vancouver.
30. June - 20. July 2002, BTA 2, Canada / Alaska,Vancouver- Fairbanks
28. July - 17. Aug 2002, BTA 3, Alaska / Canada, Fairbanks- Vancouver
25. Aug.- 14. Sept. 2002, BTA 4, Canada / USA, Vancouver- San Francisco
22. Sept.- 12. Oct. 2002, BTA 5, USA / Mexico, San Francisco- Mexico City
20. Oct. - 9. Nov. 2002, BTA 6, MEXICO/ GUATEMALA/ HONDURAS/ NICARAGUA/ COSTA RICA/ PANAMA. Mexico City - Panama
01. Dec. - 28. Dec.2002, BTA 7, Venezuela / Brazil, Caracas - Rio de Janeiro
05. Jan.- 25. Jan. 2003, BTA 8, Brazil / Paraguay / Argentina, Rio de Janeiro - Buenos Aires
02. Feb.- 22. Feb. 2003, BTA 9, Argentina / Chile, Buenos Aires - Terra del Fuego
30.Mar. - 19.Apr. 2003BTA 10, New Zealand, Christchurch - Auckland
11.May - 31. May 2003, BTA 11, Australia, Melbourne - Darwin
22.Jun. - 12. Jul. 2003, BTA 12, China, Hong Kong - Beijing
20. Jul. - 23. Aug. 2003, BTA 13, China /Mongolia / Russia, Beijing - Moscow
31.Aug- 20. Sept. 2003, BTA 14, Russia / Baltic States / Germany, Moscow - Germany

The first tours have benn completed as planned. Because of illness SARS in China the organiser Kurt will continue the last four trips in 2004:
29.02. - 20.03.2004 Australia (Darwin > Melbourne)
02.05. - 22.05.2004 China: Hongkong > Peking
30.05. - 03.07.2004 China > Mongolei > Russland (Moskau)
11.07. - 31.07.2004 Russland (Moskau) > Deutschland (Sauerland)
07th.10.2004 Next request for update.
05.04.2016 Kurt Weidner erneut um Übersicht zu seine Australien- Reisen gebeten.
06.04.2016 aus der website www.travel-action.com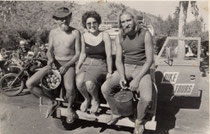 Bike Tours Australia
1984 - 2007
Eigentlich haben wir Bike Tours Australia 1982 gegründet, aber es dauerte 2 Jahre bis wir 1984 die erste Tour in Australien gefahren haben. Aus den kleinen Anfängen im ersten Jahr wuchs schliesslich ein stattliches Motorradreiseunternehmen, das Touren aller Schwierigkeitsgrade im gesamten Kontinent Australien angeboten hat. Wir haben dann das Tourprogramm nach Kanada, USA und Brasilien ausgeweitet. Als unsere Reiselust damit immer noch nicht gestillt war, haben wir von 2002 bis 2004 eine Welttour organisiert. Unseres Wissens nach die erste organisierte Motorradgruppenreise die jemals rund um den Globus angeboten wurde. Ja wir sind schon etwas stolz auf Bike Tours Australia. 2007 haben wir die Firma verkauft.


03.05.2002 - 01.05.2003
Carol Palladino (Canadian, born 17/08/1952) and Peter Cameron (Canadian, born 25/10/1959)
+ Around-The-World. Carol and Peter rode around the world 55,000 kms in 12 months with the motorcycle 1984 BMW R80 RT.
Route: Europe 25.000 kms (GB, France, Belgium, Holland, Germany, Spain, Portugal, Italy, Greece, Turkey). Flew ourselves and bike from Istanbul (Turkey) to Bangkok (Thailand)11/02/2002. S.E. Asia 14.000 kms (Thailand, Laos, Malaysia). Shipped bike from Malaysia (Kuala Lumpur) to Australia (Perth). We flew K.L. to Perth 22/01/2003. Around southern/eastern coast of Australia 12.000 kms to Townsville. Townsville back down to Brisbane. Flew bike and ouselves Australia, (Brisbane ) to New Zealand (Auckland) 20/02/2003. Around New Zealand 4,000 kms. Flew bike and ourselves, Auckland (New Zealand) to Vancouver, B.C. (Canada) 19/04/2003. Rode Vancouver to Revelstoke B.C. (Home).
Purpose of travel: Fun. Holidays.Adventure worldwide.
The best: Meeting new friends everywhere.
The worst: Riding in the worlds major cities, London, Paris, Rome, Bangkok....
Book or publication : ....no
Useful information and TIPS for others: Horizons Unlimited website.
Earlier Experiences of big Motorcycle-Tours:...Around North America.
15.01.2003 1st information by David Böll.
30.10.2003 1st update
02.11.2003 1st request for overview Around North America.


11.05.2002 + 21 days
Julia (British, born-name ??, born ??.??.19??) and KevinSanders (England) www.globebusters.com
http://www.facebook.com/GlobeBusters
+ Around-The-World - in 18,661 miles (29.858kms) and in 21 DAYS, R 1150GS.
Earlier experiences: "Remember us - Kevin and Julia Sanders (now married!) - a couple of years ago, we sent you tales from the road when we travelled two-up on a 1989 BMW R80GS around Central and South America for 7 months.
Purpose: We are leaving on 11 May and are aiming to break the World record for the Fastest Circumnavigation of the World by Motorcycle. Riding a modified BMW R1150GS, we will be trying to take 10 days off the current record. (Nick Sanders, 31 days.) This time, we have a dedicated website to our ride, so rather than tell you all about it, go to www.globebusters.com and find out all about what we are up to. The site has diary updates about our long preparations and just before we leave it will be linked through to our satellite tracker fitted on the bike and you will be able to track our progress on-line. Hope you find it interesting !
I am sure the gut reaction from most long distance motorbike travellers is to say - 'what is the point? you don't get to see / do anything relating to the countries you are in'. I suppose for this ride, the point isn't travelling in it's purest sense. It is an endurance ride, clocking up hard miles over long hours, and we wanted to see how we can work as rider and pillion in these circumstances.
...After this, then we will plan something more relaxed over a couple of years. Every time we get the e-zine we feel sick with envy at all the photos and the memories of the good old days. Perhaps you should do a 'where are they now / what are they doing now?'
Route: Country by country ???
The best of the tour: ???
The worst: ???
Earlier and later infos: ??
01.04.2002 1st information by www.horizontsunlilimted.com
01.04.2002 1st request for update!
14.03.2003 Kevin and Julia: Hi Bernd, we will not be coming this year. Too many other things to plan and not enough time!
We are the Guinness World Record Holders for the Fastest Motorbike Ride Around the World (June 2002). We are the pillion ride that broke Nick Sanders record last year - no relative, just coincidence that we have the same name!
06.08.2013 2nd request for three best fotos including portrais at that time (or today)


18.08.2003 - ??.??.20?? , Kevin & Julia Sanders(UK) plan Trans Americas Guinness World Record www.globebusters.com
http://www.facebook.com/GlobeBusters
Purpose: The aim is to smash the existing record by more than ten days. Log on and see if we make it !.
If it were just a case of riding the bike, it would not be as tough (really!). What makes the ride more difficult is documenting it all in accordance with the stringent regulations that Guinness set down. The paperwork is key. If you cannot prove what you have done to Guinness, then there is no record. If you mislay your documents half way through the record, then give up, because you don't have the proof.Here is summary of the Guinness rules for these rides:
Circumnavigation of the World by Motorcycle
Minimum 18,000 riding miles.
Minimum 24,900 miles in total.
Travel in the same direction (you cannot go back on yourself).
Cross two anti-podal points (opposite points on the globe).
Time flying between land points is not counted.
For the records:
Route must be checked by Guinness prior to setting off.
Same rider, same bike throughout.
No traffic offences.
Maintain detailed log book – every time you stop, record location, date, time, mileage and when you start, record the date and time of starting.
Photographic and video evidence of journey.
Two witnesses each day to sign the log book.
Two independent witnesses of local standing to verify the whole evidence of the journey prior to submission to Guinness.
Route: Country by country ???
The best: ???
The worst: ???
Earlier and later infos: ??
14.08.2003 1st information
14.08.2003 1st request for update.
06.08.2013 2nd request for three best fotos including portrais at that time (or today)